I do can give fashun advies
A regular reader (but lurker?) of this blog saw
my suggestions
over at profgrrl's when she asked for clothing advice. The reader asked if I might give advice on a dress to wear at a company event. She asked for something dressier (I think) than this, but in the same vein:
I am always up for giving fashion advice - so never hesitate to ask. One of my favorite blogging moments was when brightstar asked for conference attire suggestions....I had so much fun coming up with ideas - and even better, I think she even used them to help her shop.
Anyway, the reader noted too both that she doesn't wear dresses, and that she is an "apple." Now, I myself am a banana, so I'm not sure how to translate my tastes to a different fruit, but I gave it a shot.
These first four dresses are from anthropologie. The second one is fairly similar to the dress she likes - but it looks to me like it might be dressier (based on the fabric). I'm not so sold on the floral one - I go back and forth on it. I do love the first one though - the bodice looks super flattering.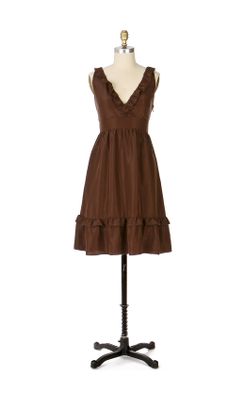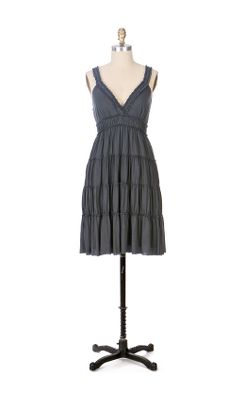 These next two are from j crew. The second one also comes in a non-strapless version. I imagine the first one isn't what she is looking for at all, but I think it is stunning. I don't like strapless dresses, but have had great luck with making straps from wide ribbon.
The rest of these are from Nordstrom. A good thing about getting dresses from there is their very liberal return policy - thus you could purchase a few and try them on, and return the ones you don't like.
The chiffon is what makes this one dressy - and I like the wider straps. It's not my favorite my a long shot, but it is a nice change from all the thin straps.
I quite like the dropped waist of this, and love gunmetal grey
For my shape, an empire waist is ideal - which is partly why I like this one. It looks liek it could either be super flattering or horrendously unflattering.
Honestly, I'm not a fan of anything sleeveless - and really not a fan of halters - but I love the pattern of this - and I think the shape is just lovely and classic. It would be a nice, unique but timeless purchase.
This is like a ballerina dress! I love the skirt - it would be floaty, and all would would want to do would be to twirl around in it and watch the skirt float on air.
Eyelet is not a dressy fabric - but I like the bodice of this one. If it came in a darker color, it would look dressier (and it might - I didn't check).
I love the layers of this one so much.
This one has a nice simple shape, with pretty details. The wide waist would be really flattering.
I actually have a dress like this from forever 21 - I wear it with a 3/4 sleeve t shirt under it, or with a vintage beaded cardigan over it. The dress I have that is like this is so obscenely flattering, it is astounding. One thing I like about mine is that the sash is so long, you can wrap it multiple times around, thus creating a wide waistband.
I have an unnatural love for this - far too much cleavage, but I love the sash and the skirt.
Pretty, simple. Not fond of the contrasting straps - but I like the rest.
This is cutely 50s-esque. I like brocade a lot (even though Tim Gunn does not).
Similar to some of the above, but the skirt overlay makes it dressier.
Very simple - with a gorgeous skirt. I'd add a sash though - but obviously I'm big on sashes.
And I'd probably wear shoes like these: