More fashun advaises
A blogger asked me for some advice on what to wear with the above skirt. I'm not sure if she wants her identity known or not (mostly because she didn't want to post this on her own blog - so I'm worried I ought not post the pic - but figured if I didn't say whose it was, that'd be safe)- so I'll let her out herself.
As I was perusing teh internets, I came across these boots, for which I am now lusting: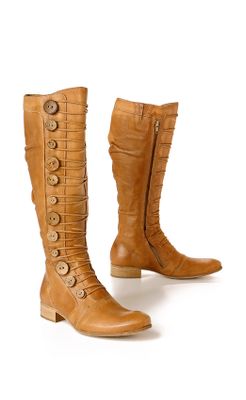 That has nothing to do with my fashun advaises - unless you are coincidentally looking for funky boots.
Onto the challenge. Were the space that blogger gives you a bit larger, I would organize these into outfits - but as it is, organizing and managing images in blogger is really actually quite annoying (although it is better to some extent now that you can see the pics rather than just hyperlinks when you are in draft mode).
I went a few ways with color. The blogger said that she thought the top should be lighter in color - and that brown tops would make her look like a fudgesicle - to which I say, "yum!" I wouldn't do a monochromatic look - but I also wouldn't just go pale either. This brown (or at least how it looks in the picture) would look great with salmon, lavendars, pinks, some greens (mint, pale teal, deep teal), yellows, creams, and chocolate brown. And of course black. I would play a bit with textures too - go very feminine and floaty to counteract some of the weight of the fabric - or something more solid. I think it can be worn in fall too, with some textured tights, some boots, and a jacket or sweater. So, below I gave a lot of options. Some of her concerns were that the top be fitted and that the shoes not be flats and not be chunky. I do try to please, but also my aesthetics may sometimes rule.
This top is from Anthro (all tops on forms are from anthro - the rest are from nordys). I love the shape of this, and it would look lovely on its own, with a light cardigan under a jacket, or with a contrasting lightweight shirt underneath it (like a camisole or a 3/4 sleeve t shirt). It's also super versatile in that it would be gorgeous with a full skirt (like a circle skirt) or some nice wide legged pants.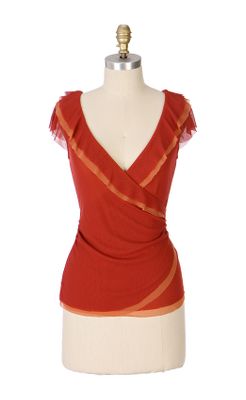 Similar silhouette - but different style and a gorgeous chocolate color.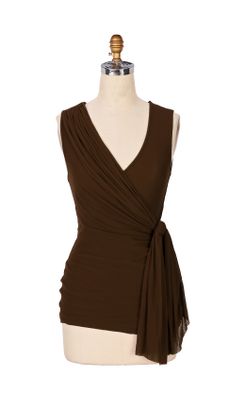 This would be a nice, simple shirt to pair with it (it comes in other colors too - it may be too similar in color). Shirts like this are great for summer professional wear as the is lightweight, has a good sleeve length, and again is really versatile. I'd wear a contrasting colored tank underneath, personally.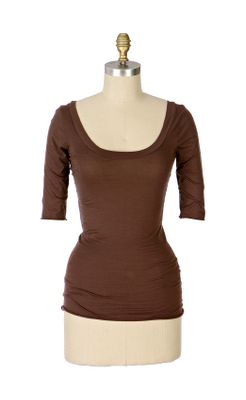 This would be really pretty with the skirt - and would cover hips if that is an area of concern. It is somewhat fitted in the chestal area, but has that great empire waist - without looking maternity-esque. This would look spectacular with wide legged (or slightly wide legged) pants and a shorter (just below the waist to hip length) jacket or cardigan. It would also be really pretty with a very floaty skirt, with maybe a sheer, longer cardigan if it is cool out.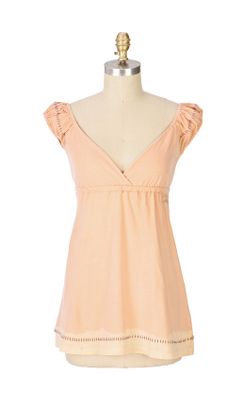 Empire again, but with a longer sleeve.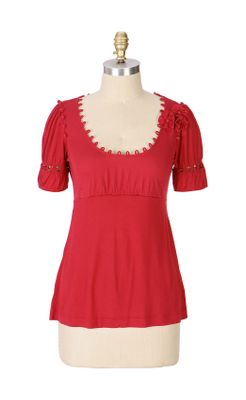 I think this would be gorgeous, and would make the skirt more feminine than it is naturally. It would also look stunning peeking out from under a blazer.
This is awfully bare for me, but I love the shape, and it would be gorgeous under a cardigan.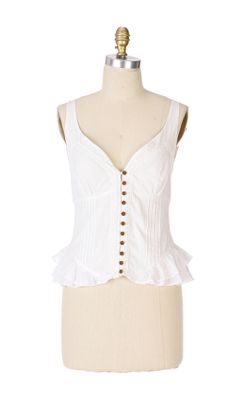 So pretty and simple.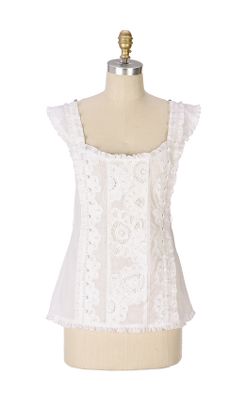 This blouse sort of echoes some of the asian origins of the skirt (the collar), is longer- yet still fitted. This is a good option to make the skirt work in professional settings.
I am unsure how this would look, actually - but I like it and think it could possibly work. it's nice and flowy to counteract the structure of the skirt .
I can't remember if this came in other colors - and I don't think this particular color would work - but I liked the shape of it quite a bit.
This is another iffy one - could be great, could be disastrous. Sure is pretty though - and would look awesome with chocolate brown pinstriped pants and maybe some cream colored spectators or bucks.
Okay, this color might make you feel like a tree - but how gorgeous is it? Again, I'd wear something under it - but I think it'd be really pretty.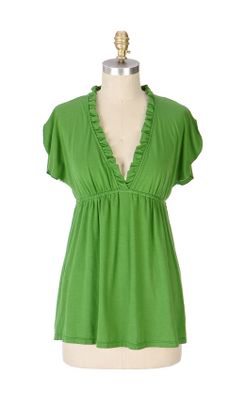 Simple with some pretty detailing - chocolate brown for a semi monochromatic look.
Very similar to the anthro green top - but in a green that is less tree0like and in a nice shiny fabric.
For a weekend look, this could be super cute.
I think this is gorgeous - you'd have to pair it with the right shoes to make it more formal.
Another simple t shirt. Old navy has some like this now too.
Light and floaty to lighten up the skirt.
Simple, professional-ish.
This could be so cute.!
Simple, professional.
Some ideas for cardigans or jackets: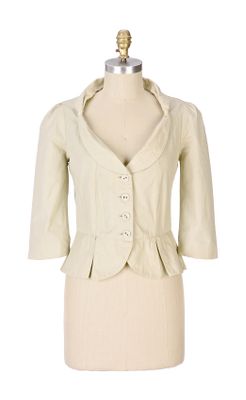 I would wear this over a lightweight top - and definitely wouldn't button it (except maybe one button).
I would pair this chunky cardigan with a floaty, girly top underneath and a good pair of dark brown boots.
And shoes. I'm not going to detail all of these - but each would give the skirt a very different look - esp when mixed and matched with some of the above tops.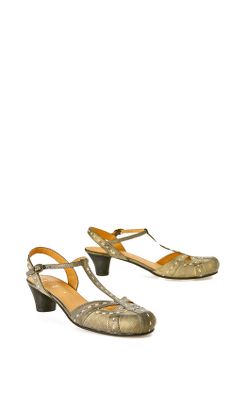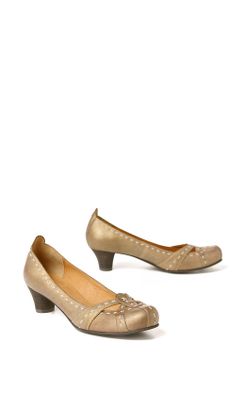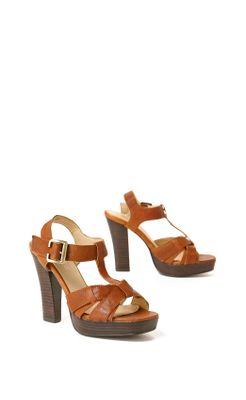 Labels: shrinky's fashun advaises