One of those moments
Yesterday I had one of those moments that made me reflect on the things that are making me happy right now ...
I was on the train going home, and was rewatching Dr. Horrible's Sing-along-blog (for like the 20th time for the first act) on my itouch. As i got up to go, a very cute 20somethign said to me, "Not to be creepy, but we noticed we were watching Dr. Horrible and we strongly approve of your video watching choices!"
That just struck me as adorable. As I was walking away, it made me think of what I liked about the power of the theatre when I was studying it. Good theatre has the ability to create community from strangers. A couple of months ago I saw Avenue Q when it was here, and the effects were similar. I've never seen an audience so electrified by theatre before - moreso than the audiences after Wicked! As the audience left, they were singing and laughing and talking about it. It made me so happy.
I had a similar feeling after that girls' comment. Dr. Horrible's sing-along-blog has hit me - it touches me, makes me happy, it makes me sing the songs in my head - I empathize and feel sad. I have a whole range of emotions that are evoked by it - but also a range of emotions that are reflected in it.
So as I walked away, I thought about the things that are good in my life right now. Now, given that I have to start paying my student loans this month (for a degree I was unable to obtain), I'm not the happiest person in the world (seriously! they expect you to pay HOW MUCH? And live on HOW MUCH????). But, some things are good - and here they are, from the ridiculous to the sublime:
1. Sometimes I like this city. I particularly like my neighborhood. It's funky, it's a community, it's got good food and interesting and diverse people. We've had a difficult spate of violence lately- but still the character of the neighborhood holds.
2. Part of that character is our farmer's market. I love it. It's small, but it is the best people watching in the city.
3. I kind of love the gap right now. I got a Philip Lim (for Gap) shirt there for $6.00 because it had a stain. I got it dry cleaned for $4.00. $10.00 for a Philip Lim shirt! That's awesome. And I covet this dress, and keep watching for the price to drop.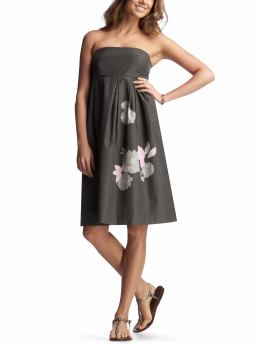 4. I love some aspects of my job. My boss has helped me really focus on the things that interest me and that I am good at. It's still a difficult and challenging workplace and despite my having brought in a lot of money in grants over the past 6 months, I only got a 1% raise (which totally sucks) - but, I'm making some nice relationships, people like and respect me, and I have some fun areas of responsibility. Plus, this week one faculty member called me a genius. Who wouldn't like that? (it was because I figured out exactly how we should frame her tenure app so that it looks really really strong - and this helps her shape her essays and everything). I think too that there is, in this job, some acceptance for who I am as a person. I think my boss accepts me despite me being kind of complicated and flawed - but well-intentioned. I think that acceptance is borne out of a great deal of self-knowledge on her own part.
5. Trader Joe's. I love it. I eat their candied ginger like it's going out of style. I love trying new things and love my tried and true favorites. A new fave is their french vanilla yogurt with bananas and walnuts. mmmmm...
6. Starbuck's vivannos. Apparently these aren't selling well, but I love them - particularly the orange mango one.
7. Food seems to be a big theme here: noodles and co's mac and cheese (add tofu, tomatoes, broccoli, and mushrooms), good avocados, chiplote's guacamole (I wish they offered baked chips instead of just fried ones), mochi (mmmmm..)
8. Mad men. What a good show -and what wardrobe inspirations! I especially appreciate how the women work to cope with and defend against the horrible sexism they face every day in the office.
9. My frye boots. I think I've mentioned before that I was born with a pretty severe birth defect that affected my feet and legs. Despite years and years of treatments, there are still long-term effects of that that cause, at times, excruciating pain. It's worse in the summer because I wear stupid shoes (ballet flats or converse) and walk more. I also think, from things from other adults with this birth defect, that it is degenerative and the constant and increasingly worsening pain is due to that. But I realized that my frye boots really help because they support my ankles, have heel that is a good height, and provide a solid sole. So I am wearing them as much as I can this summer, and the pain is much better. I love my frye boots. Although I can do without people asking me how I can wear boots in the summer.